https://www.ksl.com/index.php?sid=46246991&nid=148&title=vacation-turns-into-nightmare-for-10-utahns-when-riot-ensues-in-dominican-republic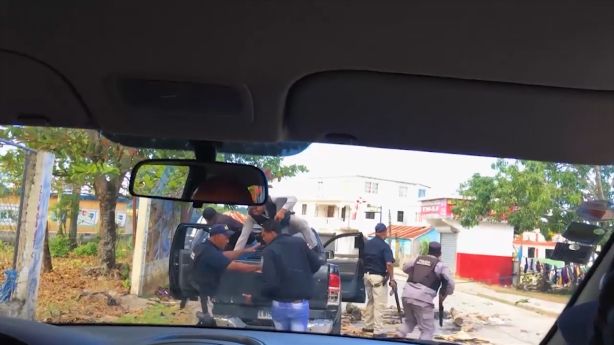 Courtesy of Doug Larson
— A vacation in the Dominican Republic quickly went from paradise to nightmare for a group of Utahns who found themselves caught in the middle of a riot.
Every year, five Eagle Mountains residents go on a big trip together. Rebecca Gagnier said her group chooses a different destination each year but aims for places that are warm and have beaches.
This year, they chose the Dominican Republic.
While on vacation, Doug Larson, who happens to be a videographer, was getting video of their trip when the group suddenly heard yelling. The group quickly realized they were in the middle of a riot.
Fortunately for the travelers, some police officers saw them all in the van they retreated to and offered to escort them out of the area.
According to the officers who helped the group, the uproar stemmed from the government's recent control of the island's electricity.
"Five months ago, the government took over their power," said Rochelle Larson, another member of the group. "And every day from 9 to 5, the power is cut. … The people were mad and they were trying to do something about it."
"(The police officers) just took it upon themselves to say 'We want to get you guys out of here safe' and they just surrounded us and got us out of there safe," Gagnier said.
But it wasn't an easy escape.
"I don't think I was really scared at first until they started throwing rocks down," Rochelle Larson said.
Rocks were being thrown, trees were intentionally cut down to block roads, and on two occasions officers fired their shotguns into the area, Doug Larson said.
It took nearly three hours to go a few miles, but the group made it out and eventually made it back home to Eagle Mountain.
The group members said they can't thank those officers enough.
"It was everything," Gagnier said. "We just called them our Dominican angels."
And even after the frightening experience, the group members said they don't blame the locals for being upset and rioting over the power outages.